Top 10 Modern Vintage Outfit Ideas for 2022
For people who love to shop for vintage items, it's pretty easy to find clothes they like, but what's a bit more challenging is finding a whole outfit that satisfies oneself. This blog will show you our top ten vintage outfit ideas to wear in 2022. It's a fundamental guide for vintage clothing and especially for inspiration. 
1. Skater Look
This look is mainly inspired by the 90's fashion, and you've probably already seen this outfit on the streets, often characterized by flannel shirts and hoodies.
You can wear them with any kind of pants – chino, cargo, jeans - the options are open. One of the essential parts of this outfit is that the colors match; for example, choose a flannel shirt that matches your shoes; this combination will give your outfit more of a vintage fashion look.


2. College Look

If you're rather the school/college type of person, this look is especially for you. 
In this case, college jackets are a must-have! The color-matching is also very important since college jackets have their unique combinations - it is important to consider them. 
The only issue here might be that vintage college jackets are quite expensive, but if you own one, that's already enough. College jackets have become one of the most popular clothing items, which became important in the 90s and still are very trendy. 
You can find college jackets basically in every kind of vintage clothing shop but don't neglect the correct sizing since they can easily make you look too bulky if it's too big.


3. Street Style Look

Fisher vests from the 90s have also become very popular, but it's not easy to wear them the right way. A hoodie underneath changes the whole game in this case. The good thing about this look is that anyone can wear them if they're into the vintage street style scene. You can also wear them with cargo pants or black Levi's jeans – it's up to you. Usually, the sizing is for men's vintage clothing, but women can wear them in small sizes or oversize, but they need to consider the size change.

4. Grunge 90's

Another hit from the 90's – a black denim jacket with a band T-Shirt underneath. This is more for the people who are into the grunge scene. The size of the jacket doesn't matter that much in this case since every way would look cool and give off different vibes. Leather Jackets with a white T-Shirt are also a typical look taken over from the 80s/90s.
.  
5. Classic 70s

The 70's look is great for summer! The colors, the patterns – they just give off the exact vibe for a sunny day. The women's vintage clothing section in the 70s included jumpsuits, dresses, and flared jeans. The actress Farrah Fawcett was one of the fashion icons of that time with her big voluminous hair and the typical 70s outfits that looked on point every single time. Nowadays, you can find different items in that look, especially retro redesigned clothes inspired by the 70s since it's having a big comeback now.  
The men's vintage clothing in the 70s looked quite different, but the fundamental aspects stayed the same – flared jeans, colors, and patterns. They often wore suits and vests on a daily basis. 
6. Modern 80's

The era of the 80's fashion had its pro and contras. Some of their iconic fashion looks had their comeback, but some of them are better left behind. It was the disco time – neon colors, even more voluminous hair than in the 70s, and many bright and big accessories, mainly conspicuous. 
One of the iconic looks, though, is the denim look which will probably never go out of style.
7. Vintage Prep Look

This vintage-inspired look is a combination of the well-known Ralph Lauren and the 90's style. It's a very playful look with a classic touch. The main clothing items are pullovers, polo shirts, colorful tops, mom jeans, and of course, some accessories from the 90s. For instance, in the pics, the guy wears a bucket hat while the girls use hair clippers as their vintage accessories. 
This outfit can be worn with modern clothes too, but if you rather wear vintage clothing, I highly recommend checking the vintage clothing labels to see if the items are true vintage. 
8. 70s / 90s Modern Vintage Look Aka Mixed Vintage

If you're the type of person who expresses themselves in colors, this might be a fitting style for you. It is inspired by the 70s and 90s – there are no given rules for what to wear or not – you can wear a 90s top with 70s pants or vice versa, but the main importance lies in the colors and the preppy look. This outfit may not be for everyone, but it's an eye-catcher for sure! The only danger is to overdraw the line where it starts looking too much, but you're safe if you combine a colorful top with a one-color jeans.
.  
9. Vintage Sportswear

Sportswear has always played a significant role in the vintage scene – whether it's NBA, NFL, or MLB Jerseys, the sports fans love to buy an authentic jersey from their favorite team and players from the 90s or 2000s. Nearly every second-hand store sells them because they are one of the most liked clothes. Whether it's stitched or not, you can differentiate real vintage jerseys from modern ones by the imprint. Jerseys with stitched imprints are a lot more valuable rather than when they're printed. On a daily basis, you can wear a Jersey as you like, whether with shorts or your favorite vintage pants. Even on cold days, they can be worn over a pullover – there are no limits!
10.  Harley Davidson Style

Last but not least, the Harley Davidson look is at least as important as the other looks. Harley Davidson was founded in 1907 and is still one of the most valuable brands ever. Originally the brand was made for biker lovers, but even young vintage enthusiasts love to wear Harley D's vintage T-Shirts. Again, there are no rules or limits with their clothes, wear them as you like.
Oversized or fitted, the T-Shirts look really good either way. If you have more ideas on how to style a vintage T-Shirt, feel free to express your creativity in your outfit!
These are only a few of many more styles inspired by vintage fashion. Racer jackets, party shirts, windbreakers… all these clothes also play a significant role like the others. The best part about vintage is that there's no rule, and every single person I saw wearing vintage had their unique way to rock their outfits, so don't be afraid to express yourself; life is way too short for feeling uncomfortable and not yourself in the clothes you're wearing. I also like the vintage hype – it's not only about the environment or the clothing experience but also a new way to find and, most importantly, care for yourself – we tend to neglect it sometimes.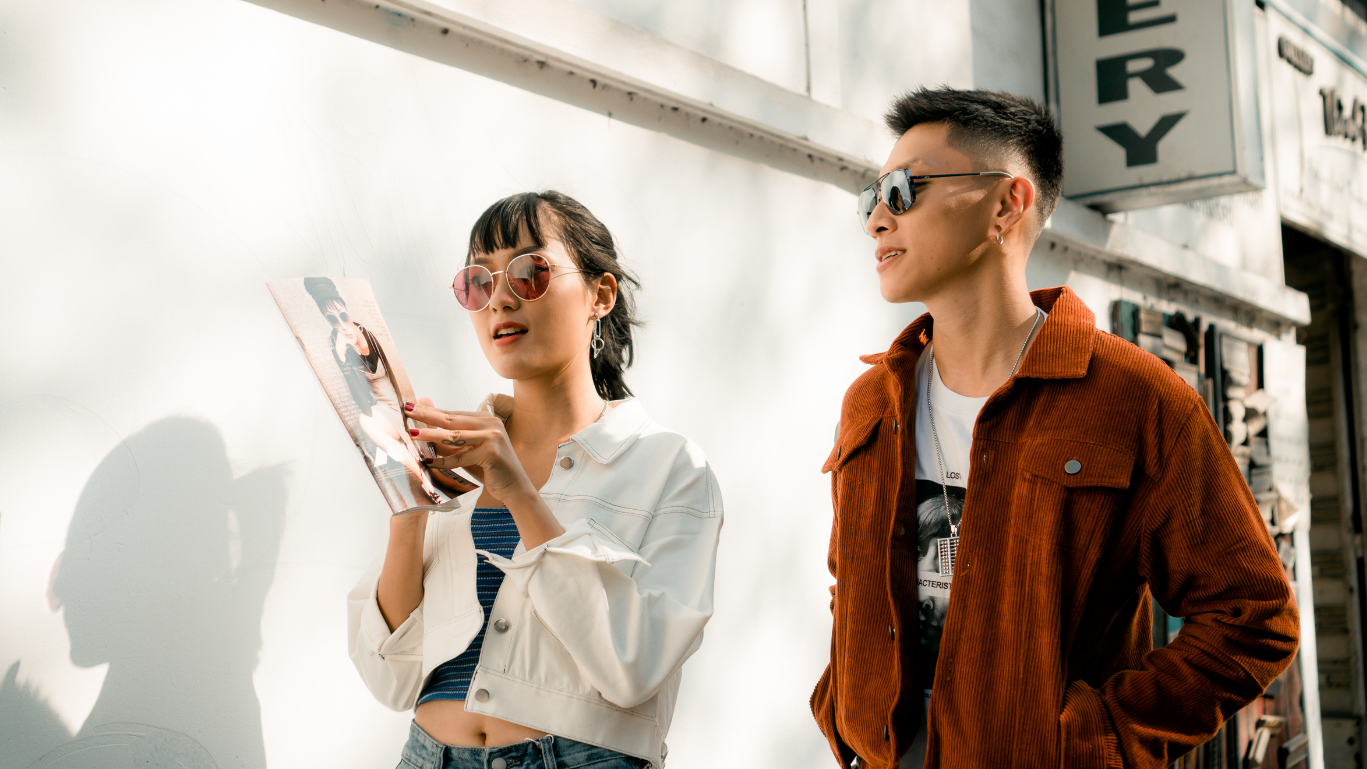 Meet The Author
Dan Shewan
Originally from the U.K., Dan Shewan is a journalist and web content specialist who now lives and writes in New England. Dan's work has appeared in a wide range of publications in print and online, including The Guardian, The Daily Beast, Pacific Standard magazine, The Independent, McSweeney's Internet Tendency, and many other outlets.

See other posts by Dan Shewan