A Guide to Buying Vintage T-Shirts
T-Shirts are among the most bought and popular vintage items on the market. I don't wonder why: you can wear them anywhere and anytime. If you like to wear vintage T-Shirts but don't know how to identify a true vintage piece, this guide may help you with that issue. Since there are different types of second-hand T-Shirts, you should keep an eye on specific indicators on other T-Shirts like university T-Shirts, Harley Davidson T-Shirts, modern second-hand T-Shirts, or even modern vintage dresses as a T-Shirts look. There are tons of varieties, but I'm only going to list the most important ones.
1. Single Stitch
Single stitched vintage T-Shirts were produced before 1994, which means that it assures you the product is true vintage. The stitching can be found on the T-Shirt sleeves – if it has two stitching lines, it's probably a newer product. This rule applies to all types of T-Shirts, but there are some exceptions! Designer Brands tend to use the technique nowadays for retro vibes, but it's just a tiny amount. 
2. Tags
The Tags also show if a product is vintage or not. Usually, if the label is printed, the product is modern; meanwhile, the very thick fabric indicates vintage T-Shirts. There are many more ways to identify a vintage tag; feel free to read the other Blog, "10 Tips for Identifying Vintage Clothing Labels." The most important to look out for is not only the thickness but also the "made in" since vintage products are usually made in Mexico or USA.
3. Fabric
The fabric has changed in the vintage fashion history, and I must say, it got worse. Back then, the products were thicker and had pure fabrics, while today, everything is mixed with either elastane, polyester, or acrylic. If you find a vintage T-Shirt with a thick fabric that says 100% cotton, it's a green light for buying that item. In a vintage clothing shop, the t-shirts are usually mixed and not separated. Feel every product, and you'll notice the difference between the modern and vintage fabric. 
4. Imprints
This part is a bit tricky because vintage T-Shirts have stitched imprints and modern ones. Nevertheless, it is a good indication, especially when the tag you inspected also has features of vintage labels. But not only the imprint technique shows if a product is vintage or not but also the imprint itself –big imprints were the hit back then; you'll realize when you see a lot is going on: 
The first t-shirt is modern, as you can see the imprint is classic and usual while the second one has more action. Many retro clothes take over this look from back then, making it a bit more complicated. But as I can ensure, no second-hand shop sells new retro clothing. 
Another aspect an imprint can tell if a product is vintage or not is the washed-out look. Logically, you could tell right away if an item lived longer just by looking at them.
5. Harley Davidson
Harley Davidson is a very old brand, it was founded in 1903 for motorcycle lovers, but nowadays, it is one of the must-haves in the men's vintage clothing wardrobe. But not only it's essential to have a Harley T-Shirt, but also to identify if it's vintage or not. 
Harley Davidson indeed worked with Hanes in the 80s, which means when you find a Harley T-Shirt with a Hanes Tag in a second-hand store, it's not fake – it's even real from the 80s/90s! 
There are not only products from them with Hanes Labels but also with a "3D Emblem" label, which is also from the 90s. 
6. Mounted Collar
Collars that are sewn on the top of the t-shirt are indicators for vintage T-Shirts that are from the 60s. It is very rare to find mounted collars, so you're a lucky lad if you find one in a second-hand store! T-Shirt collars that are sewn underneath are from the 80s to now. But indeed, there are some exceptions.
The left picture shows a mounted collar and the right one that's stitched underneath.
7. Sizing
Did that ever happen to you? You were searching for vintage T-Shirts in a second-hand store, and you found one in your right sizing by the label, but it was way too small? Then it's probably a vintage T-Shirt! Through the years, the sizing has increased, which means that T-Shirts in L back then are probably an M now. The people back then were, on average, way smaller than the people today (in size and height). What do we learn from this fact? If you're in a vintage store and see a perfect shirt with the right sizing, don't become excited too fast. It not only has to do with the sizing changes through the decades, but washing can also shrink clothing, but that also could mean a t-shirt is  vintage after it has lived so long. 
8. Popular T-Shirt Styles and Brands
After we've discussed how to identify vintage t-shirts for more conscious buying, here are some styles and brands for inspiration. 
Vintage Rock – If you're only wearing black clothing, vintage band t-shirts, or Harley D's, this may be the right fit for you. Often, band t-shirts are usually quite expensive, except it's retro. Not every second-hand store has them, so I would recommend researching them. 
Vintage Sportstyle – Now, this one contains brands like vintage Nascar, Nike, Adidas, etc. Everything has to do with sports. This one is the most commonly bought t-shirt style. The look differs for each item, though.
Vintage Summer – T-Shirts with beachy imprints give you summer vibes immediately. I'm sure that's why they're pretty popular, and they also look cool. 
Just like the sports style look, the t-shirts have different types of imprints, which makes it even better when you like to try something new. 
Vintage Tie Dye – Tie Dye T-Shirts are also well known. It became popular in the 60s as art and then in the 70s as a fashion trend. The varieties of tie-dye expanded in the 90s, so it always played a big role through the decades. 
Some Facts: Tie Dye was used and worn by hippies as art to protest the Vietnam war. The colors, meanwhile, were the symbol of love and peace.
University - We all kind of love university t-shirts since they have a 90s preppy look. They're not only very popular for men but also in the women's vintage clothing section. Russell Athletics and Champion are well-known brands for University t-shirts and sweatshirts/hoodies. As you can see below, it is not easy to differentiate between authentic vintage and modern university t-shirts because they usually have the same look. The only thing revealing is the label again. 
The shopping experience gets more exciting after knowing the basics like the tags or fabric of vintage clothing. The identification will be easier over time, and you'll be a pro! 
With this knowledge, you can buy more consciously and be happier after knowing that it wasn't just another useless buy. Even if you don't want to wear it after a while, the product still has its value.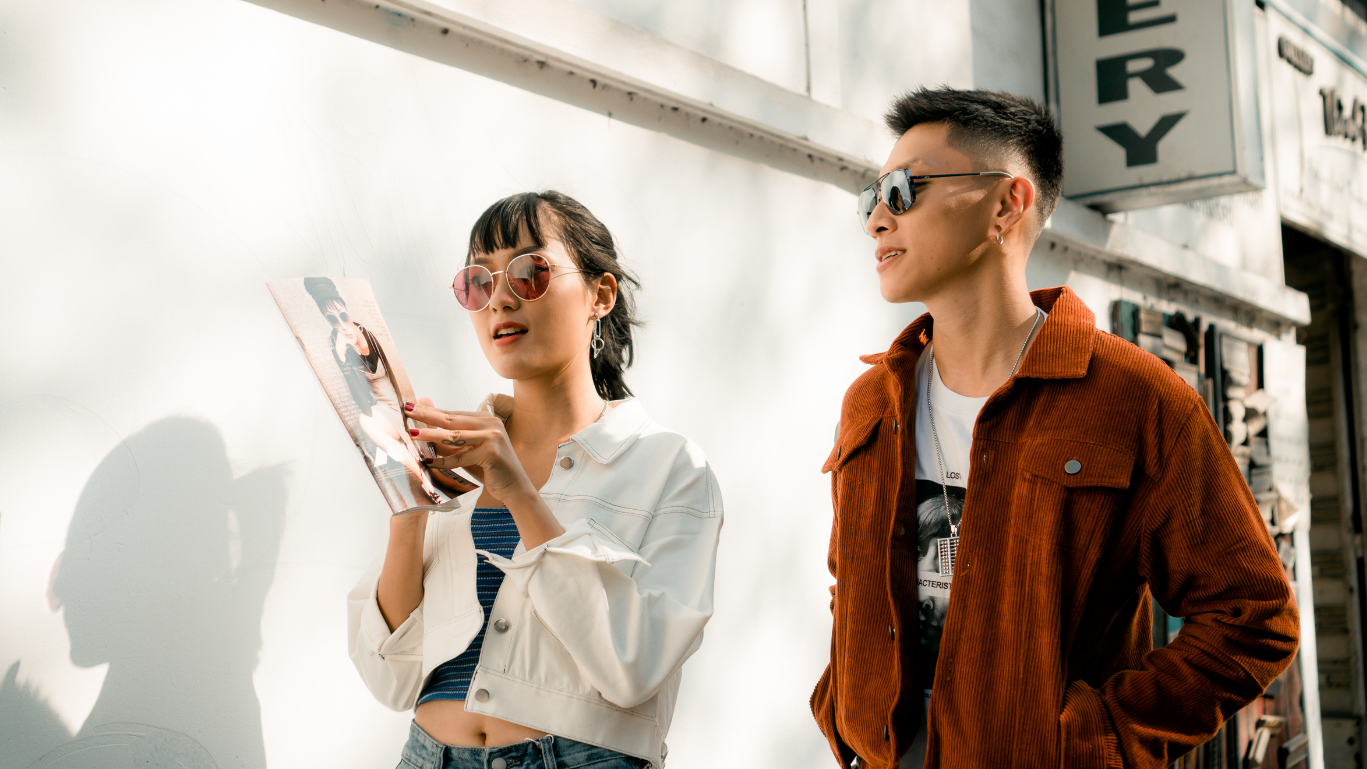 Meet The Author
Dan Shewan
Originally from the U.K., Dan Shewan is a journalist and web content specialist who now lives and writes in New England. Dan's work has appeared in a wide range of publications in print and online, including The Guardian, The Daily Beast, Pacific Standard magazine, The Independent, McSweeney's Internet Tendency, and many other outlets.

See other posts by Dan Shewan